Now that we've chosen a template and saved our presentation, let's add some slides. But how do we do it? There's actually three ways, and over time you'll start to favor one of them:
Go to the file menu, click [Insert - New Slide] (for the logical mind)
Go to top toolbar, find the "new slide" button (for the visual mind)
Type the keyboard shortcut [Control + M] (for the robotic personality)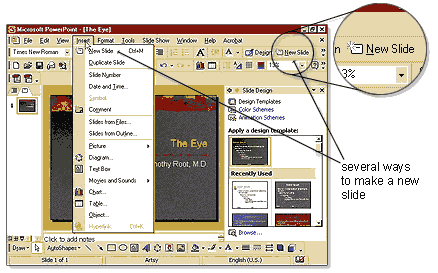 When you add a new slide, PowerPoint wants to know what "slide layout" you prefer. Slides have different layouts, or arrangement of text and objects … i.e. a title slide looks different than a "normal" slide.
You can pick and change these layouts by going to the "apply slide layout" pane in the task pane. There are a lot of slide formats we can choose from, such as ...